All businesses share one goal: To improve efficiency. Even if it's not written down somewhere or agreed to in a formal meeting, every organisation knows that new ways of working can improve outcomes.
Digital transformation is one way to improve efficiency. You probably already use different tools and technologies in your organisation to make your work easier, but one simple step can make a huge difference — integrating Google Ads and HubSpot.
Using Google Ads
In all likelihood, you already know about Google Ads, but let's do a quick recap. Google Ads is a popular choice for advertising because it allows you to reach your target audience exactly when they are searching for the products or services you offer.
You know how it works: A customer types in a search term like "black dress" or "best restaurants in London," and the search engine provides a set of results. At the top of the results and along the side, various adverts are shown with the word "Sponsored," indicating that someone has purchased a keyword related to the search terms. You are putting your products right in front of potential customers.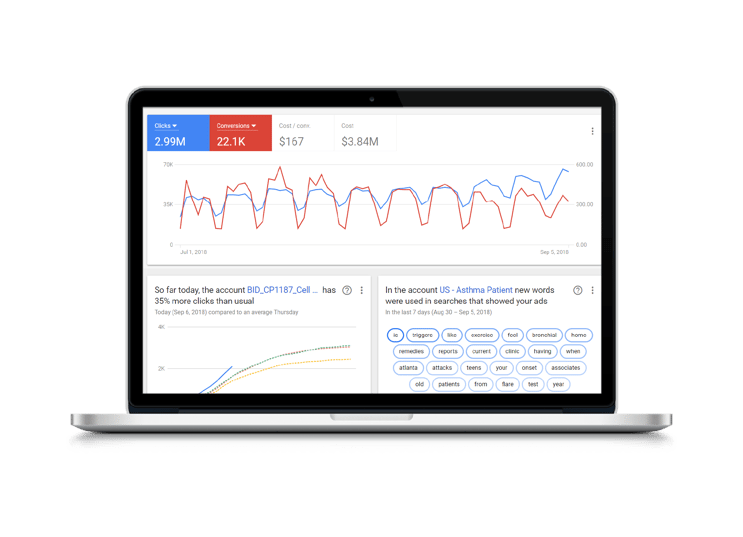 Google Ads is a very effective way to generate leads and sales, but it can also be time-consuming and complex to manage, especially if you are new to online advertising. Luckily, HubSpot can make it easier for you!
Using HubSpot for Better Ad Performance
HubSpot is a marketing automation platform that makes various parts of marketing easier; it can also make your paid ad strategy more effective. You can integrate HubSpot and Google Ads to manage your campaigns and track your results all in one place.
HubSpot also provides several tools and features that can help you get the most out of your Google Ads campaigns:
Lead generation and nurturing: HubSpot helps you to capture leads from your Google Ads campaigns and nurture them through your sales funnel, resulting in increased sales over the long term.
Reporting and analytics: HubSpot provides detailed reporting and analytics on your Google Ads campaigns, so you can see what is working and what is not. Use these insights to make changes or A/B test your campaigns to find the best-performing ads.
Automation: HubSpot can automate many of the tasks involved in managing your Google Ads campaigns, such as creating and managing ads, tracking keywords, and adjusting bids. Automating tasks saves you time so that you can do more strategic work.
If you are looking for a way to make Google Ads easier and more effective, HubSpot is a great option. With HubSpot, you can spend less time on managing your campaigns and more time on growing your business.

The Benefits of Integration
If you are using both Google Ads and HubSpot, integrating the two platforms is a great way to improve the efficiency and effectiveness of your marketing campaigns. It offers many benefits that influence your overall marketing and organisational goals.
Streamline Campaign Management
One of the biggest benefits of integrating Google Ads and HubSpot is that it creates a unified, streamlined process, allowing you to orchestrate your marketing initiatives. With the integration, you can manage all of your Google Ads campaigns directly from within HubSpot, which eliminates the need to switch back and forth between different platforms, saving you a lot of time and effort.
Improved Audience Segmentation
To target the right people with your ads, you need to segment your audience correctly. HubSpot allows you to create detailed buyer personas, and you can segment your leads and customers based on a variety of factors, such as demographics, interests, and behaviour. These details can then be used to develop more targeted and effective Google Ads campaigns that resonate with the audience.
Targeted Messaging
Once you have segmented your audience, you can use HubSpot to create targeted messaging for each segment. This is especially useful if you know that certain segments use specific products or services at a given period of time or if you have different audiences using the same products in different ways. By changing up your ads and messaging, you can ensure that potential customers find the information useful, which may lead to increased sales.
Better Quality Leads
With HubSpot, you can track the entire customer journey, from their first interaction with your brand to their purchase. Because you are showing Google Ads to people actively searching for something you can offer, you already know there is a higher probability of them clicking on your ad. Ultimately, this creates better leads that already show some interest in what you are offering.
Improved lead management and nurturing
Once you have generated leads from your Google Ads campaigns, you can use HubSpot to manage and nurture those leads. HubSpot provides a variety of tools and features to help you automate your lead nurturing process, so you can focus on closing more deals. It's possible to send leads additional information that they will find valuable, increasing the chances of a sale. That's just another reason why you should integrate Google Ads and HubSpot.
A Marketing Snapshot
Finally, the integration between Google Ads and HubSpot gives you a holistic overview of your marketing efforts in one place. When you use HubSpot, you can see how all of your marketing channels are working together to generate leads and sales. You can view ad performance and make the necessary changes to enhance your strategy. This information can then be used to optimise your marketing campaigns and improve your overall marketing performance.
Before You Integrate
It's tempting to just jump in and get started on the integration, but there are some details you need to know before you do it.
Firstly, you might wonder whether your HubSpot plan has this integration. The answer is yes! All HubSpot plans, including the Free plan, have the ability to integrate with Google Ads; however, some features, such as closed-loop reporting, are only available on the higher-tier plans. That seems like a good enough reason to upgrade your current plan!
Secondly, there are only two things you need to integrate the accounts. You need a Google Ads account, and you need a HubSpot account. That's it! If you have both of these, then you can move to the next step.
How to Integrate Google Ads With HubSpot
It's easy to integrate Google Ads with HubSpot. Here are the basic steps:
Go to your HubSpot account and click the Ads tab.
Click the Connect button next to Google Ads.
Enter your Google Ads account information and click Connect.
Once your accounts are connected, you can start managing your Google Ads campaigns from within HubSpot.
The HubSpot Knowledge Base has all the details you need to complete the setup if you get stuck.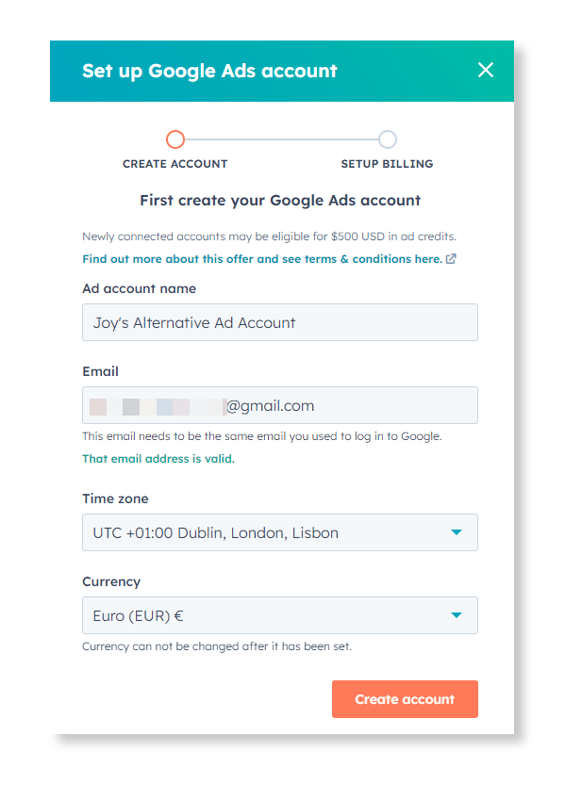 Measuring the ROI of Ad Campaigns
Connecting your Google Ads account with HubSpot already has a host of benefits, but one of the biggest ones is that you can easily review the performance of ad campaigns.
While in HubSpot, you can check ad data for any historic or existing campaigns. Select your campaign and the data range you want to analyse, and HubSpot will present the relevant data to you which you can export to reports.
Most HubSpot reports will show the overall impressions and clicks, as well as the number of new leads. You can also choose which columns should be included in the report, for example, total contacts, amount spent, click-through rate, and cost per click. If you have an Enterprise of Professional account, you can also see the number of new deals from an ad, including the revenue generated from it.
It's also possible to see the results from all your campaigns together. When you click on the Analyse tab, HubSpot will provide you with overall data including total ad spend, contacts, and ad spend over time. Additionally, you will get specific results such as campaigns with high cost per click, low cost per click, high cost per contact, and low cost per contact.
By analysing your HubSpot results, you can determine which of your campaigns work best and use those insights to inform future campaigns.
Conclusion
Let's circle back to the beginning: Every business wants to be more efficient. There are many digital tools that can help you achieve this goal, but some of the key ones you need in your tech stack are Google Ads and HubSpot.
By integrating Google Ads and HubSpot, you are maximising ad performance, creating messaging that resonates with the target audience, and saving time. Now that's a winning combination!