Both SalesForce and HubSpot have some of the best customer relationship management (CRM) tools that can benefit any marketing efforts. Recently, a growing number of businesses opted to move from SalesForce to HubSpot or to use both. Why is this the case?
Organisations want a CRM that is easy-to-use and allows teams to be agile while also being affordable.
Over the years, we have worked with a number of CRMs — some are good and some are not-so-good. Generally, we always return to the same two CRMs: SalesForce and HubSpot. If we put on our Honesty Hat, we have to admit that we are moving clients from SalesForce to HubSpot for the following reasons:
Cost

: HubSpot is more affordable considering its versatility.

Usability

: It's easier to configure HubSpot for your needs.

Time

: HubSpot is faster to set up than SalesForce.
The Main Consideration: Agility and Affordability
Although SalesForce's tech stack is excellent, it can be challenging to use. In many ways, SalesForce requires businesses to adapt to their processes rather than allowing companies to customise the CRM to their needs. This stops businesses from being agile. Additionally, SalesForce is reasonably expensive. Add that onto the time needed to configure the CRM, and you already have a sizable investment.
In contrast, HubSpot's prebuilt tools are customisable and fit in with the processes of businesses. By centralising a business' database, HubSpot allows you to use many applications from a single place which makes the process agile. HubSpot offers users limited features with a free account, so that you can determine whether it's the right CRM for you before deciding to opt for one of their paid plans.
SalesForce Vs HubSpot
The decision to move from SalesForce is a big one, so it helps to compare the two CRMs for a better idea of which one is best for your business. The table below shows some factors you might want to consider.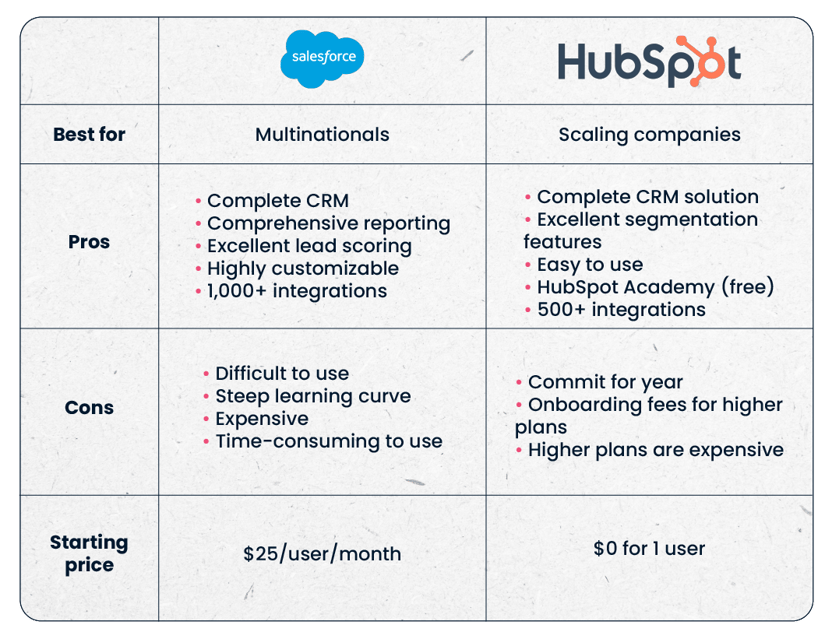 Keep in mind that you don't have to move from SalesForce to HubSpot. Some businesses choose to stick with SalesForce for their sales efforts and opt to use HubSpot for marketing. It's entirely up to you.
What Can Be Migrated?
HubSpot allows you to migrate various objects from SalesForce. What you migrate depends on your business needs and objectives.
Many of the objects have the same names in HubSpot as they do in SalesForce. For example, Calls, Campaigns, Leads, Products, and Tasks. However, some objects have slightly different names. For instance, SalesForce uses Accounts and Opportunities while HubSpot uses Companies and Deals, respectively.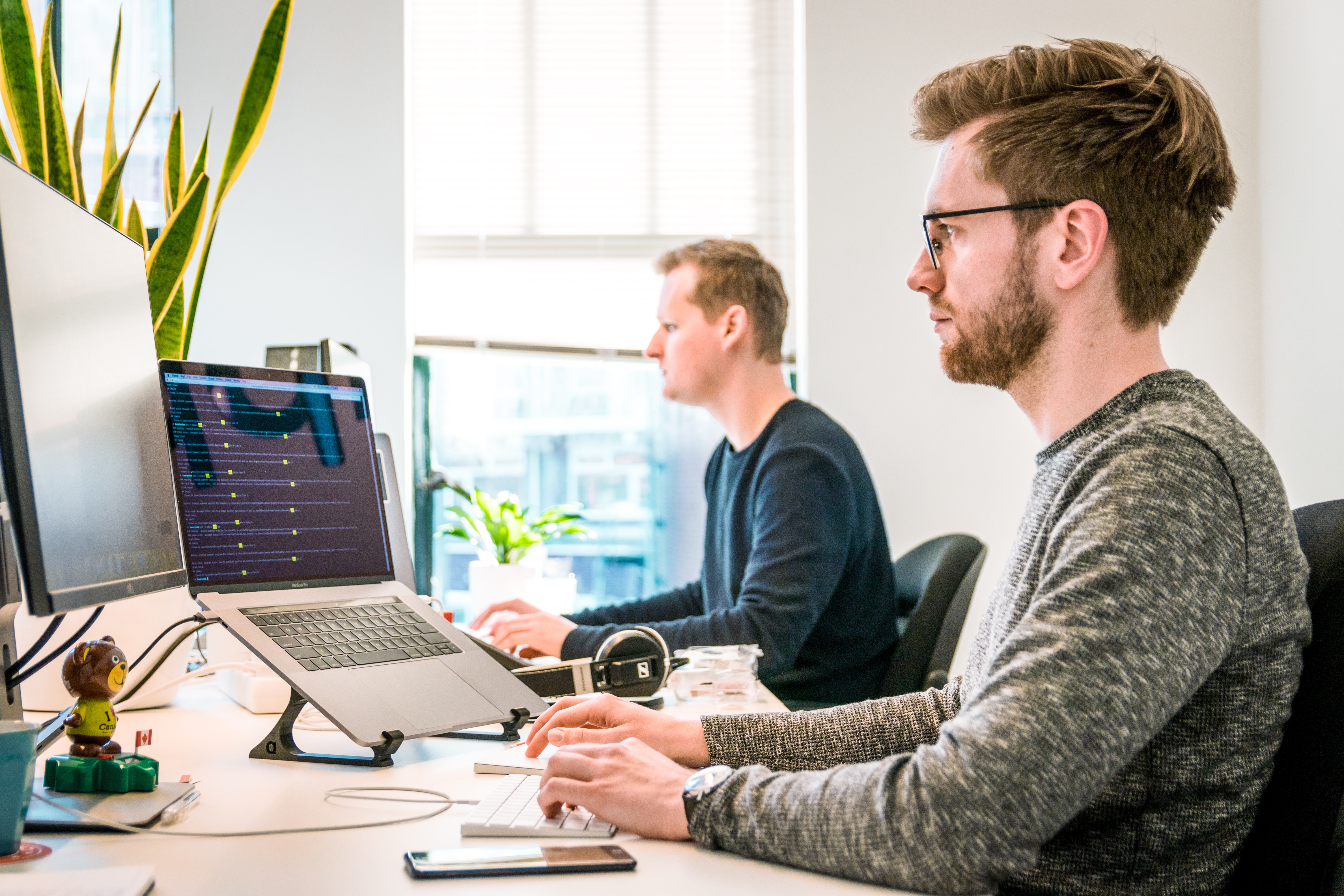 Caveat: The easiest way to migrate objects from Salesforce to HubSpot is with any of HubSpot's Pro licences such as the Sales Hub Pro package as it contains all the integrations necessary for a successful migration. If you are uncertain whether you want to go this route, then evaluate the features offered in Sales Hub by using the trial package first.
Alternatively, you can do the migration manually by exporting SalesForce data to a CSV file and then importing it to HubSpot, but the data will require more checks to ensure it is ready for use.
"Migrating from SalesForce is a task that should be smooth sailing. At warbble, we have helped numerous customers to navigate the choppy waters to migrate their data correctly. From simple data transfers to complex integrations and everything in between, we've been there and done it for our customers." — Greg Furlong, CEO
7 Things to Consider Before You Move From SalesForce to HubSpot
The decision to invest in any CMS is a big one; it's an even bigger decision when you are considering changing from one CMS to another or supplementing one with another.
Here are seven factors to consider when making the decision to migrate from SalesForce to HubSpot.
1. Data Mapping
Depending on your CMS goals, decide what data you want to migrate. Ensure that all the data you plan on migrating can be captured in HubSpot and create an action plan of how you will do the migration.
2. Integration
Both SalesForce and HubSpot have numerous integrations with other applications, software, and systems. These integrations will be affected when you move from SalesForce to HubSpot.
Ensure the necessary integrations are in place in both CMSs to make the migration easier. The last thing you want is a disruption to your workflow because of unnecessary hiccups caused by a lack of integrations.
If you are ever uncertain about how to do this, our team of HubSpot experts can help you. All you need to do is contact us for assistance.
3. Onboarding and Training
HubSpot is much easier to use than SalesForce so you should be set up and ready to go quickly. Support is available to assist with your team's HubSpot onboarding. Alternatively, we can get you onboarded within a month.
HubSpot Academy is another great resource you can use to learn how to get the most out of your CRM. It's a free resource that adds value to any team and training session.
4. Customisation
It's quite likely that you have some form of customisation in SalesForce and that you will need to have similar allowances in HubSpot. Make a note of any kind of customisation you currently have and determine how HubSpot will meet those needs and expectations. Planning for this allows you to migrate from SalesForce to HubSpot faster and more easily.
5. Data Cleanliness
During the migration, you will be moving large amounts of data from one CMS to another. Before you do so, spend some time cleaning up the data in SalesForce. You might find there are outdated or duplicated records or decide not to migrate some of the data.
6. Timing
Setting up and getting used to any CMS takes time; the same is true of migration efforts. Whether you are integrating SalesForce into HubSpot or doing a complete migration, your team has to create a thorough plan dictating the timing of the project.
Break down the migration process into component parts and allocate an estimated amount of time to each part of the process so that you have an idea how long it will take.
It's also important to decide when you want to do the actual migration. Choose a time when the CMS is less busy to minimise interruptions to your team and customers.
7. Cost
The cost of HubSpot and SalesForce has been touched on briefly but needs to be mentioned again. Although HubSpot has a free plan, and you could do the migration manually with a CSV file, you may want to invest in the Sales Hub Pro package to make the move from SalesForce to HubSpot more easily.
Besides the cost of the actual CMS, you also have to consider the time it will take to do the migration, onboarding, and training your team, which all have an associated monetary cost. Additionally, you might use a company to do the migration or assist with onboarding — in this case you have to pay them but frequently these costs are offset by the speed at which the setup happens.
What to Expect During the Switching Process
There are five phases in the switching process. The first two phases deal with the actual migration, while the last three ensure you are successful with HubSpot.
The following flowchart guides you through the process.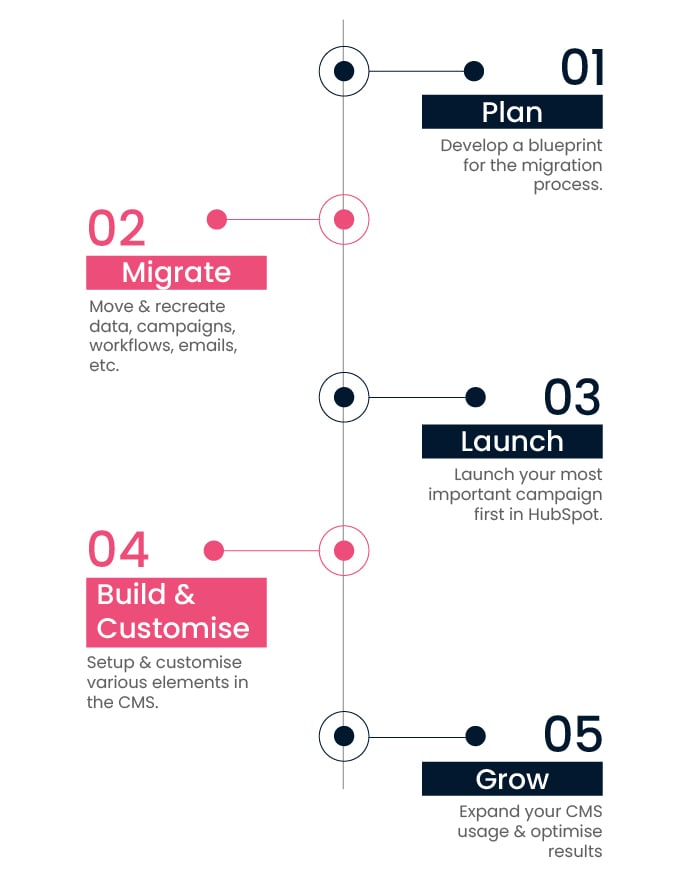 After the Migration
Success! You have moved from SalesForce to HubSpot. But what happens now?
At a minimum, conduct a post-migration audit to check that your data has been captured correctly, that dashboards reflect the correct information, and that campaigns are launching as planned. It's beneficial to do a few checks every week to ensure that you haven't missed anything and that your team is getting the most out of HubSpot's features.
HubSpot has so many features, tools, and integrations that you can leverage to meet your goals. To do so you have to stay up-to-date with the latest CRM features and monitor performance frequently.
Whenever a new feature or update is released, HubSpot will let you know. Take the time to study the changes and train your team on these updates too. While you are at it, review some of the features and tools you already use, and determine whether you can use them better in some way. Even minor tweaks can have an impact on your results.
Time to Migrate!
With all this information at your fingertips, you could be ready to take the next step and move from SalesForce to HubSpot. If you are ready, then start planning when the migration will occur and gather the necessary resources and team members for a smooth transition.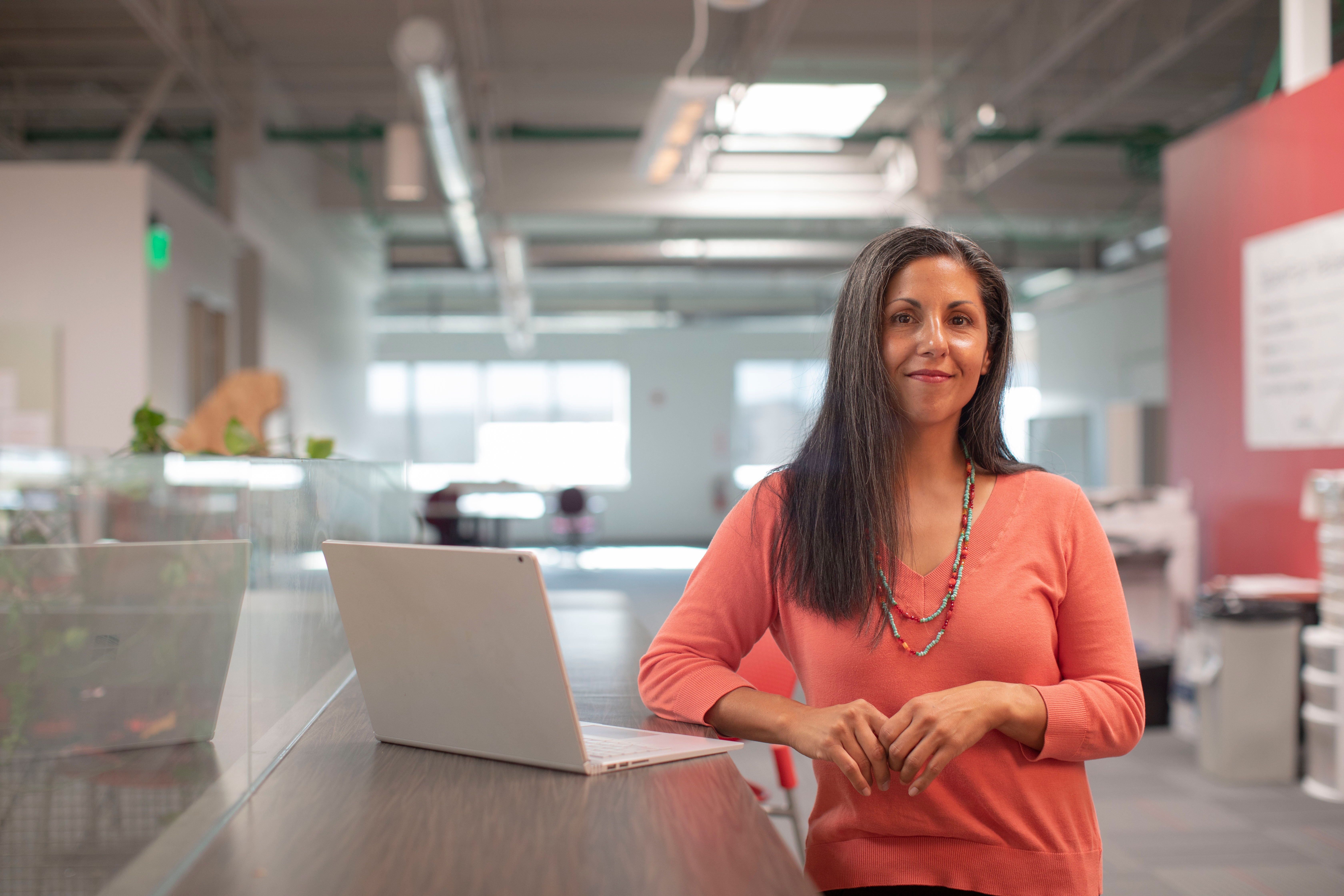 FAQ
What is needed to complete the migration?
Besides needing a SalesForce account, you will also need a HubSpot Pro package which comes standard with five licences. It's recommended to use the SalesForce CRM integration to help complete the process effectively. You will also need to dedicate time and team members to the process.
How long does migrating from SalesForce to HubSpot take?
The time taken to complete the migration depends on how quickly you want to start using HubSpot. With high collaboration from your side, we can get the migration done within a few weeks; however, some companies do take longer resulting in projects of up to three months.
How does Warbble help?
When we assist you with moving from SalesForce to HubSpot, we will brief you about the process, determine your CRM needs, check the data cleanliness, set up the integration, and migrate the content. The validation process will also be completed to ensure there are no errors. We provide end to end support to bring your data across and train your teams.
To start, we will have a kick-off meeting with you to understand what's happening with your current CRM and what you require from the migration. Next, we identify key stakeholders and what they need to get their work done. During this step, we also consider data integrations and set up pipelines to import data.
Once the setup is done, the project kicks off officially. We work with your end users to integrate third-party apps, create workflow automations, develop templates, and provide HubSpot training for your team. Finally, your team will have our ongoing support, strategy recommendations, and training opportunities to ensure you can use HubSpot's capabilities fully.

Here's what our customers have to say about the process:
What if a company needs more assistance?
Warbble is always just a call away and ready to assist you with all your HubSpot matters. Contact us for once-off assistance or for Monthly HubSpot Management.