Every year, millions of brands participate in Black Friday. They come up with interesting campaigns and all kinds of marketing tactics, many of which they use in some way throughout the festive season.
Some of these tactics are repeated for other holidays and annual events like Valentine's Day, Easter, and traditional sales. But, do they really work?
Klaviyo, our email marketing partner, investigated which marketing tactics customers loved and hated during Black Friday campaigns. Here is what we learned from their findings and how you can use these lessons to improve your marketing strategies.
Marketing Tactics Consumers Hate
Let's start with what customers don't like about holiday marketing. These points probably hold the greatest weight because they refer to things that could put distance between you and your customers.
Not Being Honest About Promotions
Have you ever seen a company's Black Friday special stating that it "ends at midnight" just to see another email the next day with "Surprise! We've decided to extend our Black Friday sale"? Customers hate that!
Consumers know that the company already decided ahead of Black Friday for how long they will run their sales. They know it is fake marketing and won't fall for it.
All this tactic does is create a fake sense of urgency and then negate it the next day. The result: Customers perceive the brand as untrustworthy.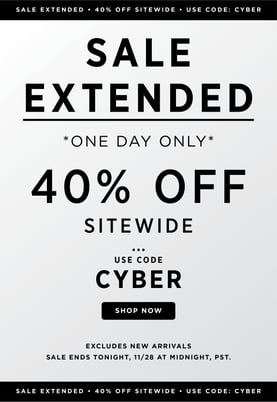 What to do instead: Be honest about your sale.
Giving Misleading Information
The next marketing tactic is linked closely to the previous one because it also comes down to transparent marketing. Don't provide misleading information in promotional material, especially when it comes to discounts and free products.
Many holiday marketing campaigns give customers the idea that they will get something for free but they don't mention the terms and conditions.
For example, a brand may offer free shipping when a customer spends more than €150 or a free product when a specific other product is purchased. Hiding these caveats from customers won't get a business anywhere because customers might click to get onto your website, but they won't trust you.
What to do instead: Explain the offer clearly from the start.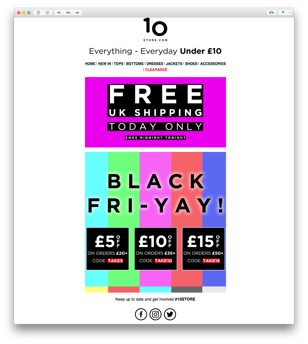 Focusing Offers Solely on New Customers
When companies create their Black Friday deals, they often bundle different products together or focus on basic products that will appeal to customers that don't place orders frequently. This marketing tactic stimulates purchases from new customers.
For instance, a supplier of car wash products might offer a bundle containing a car wash shampoo, a wheel cleaning product, and a polishing liquid which is then sold at a discounted price. The marketing team might think this offer will have wide appeal, when it actually only resonates with new customers. Loyal customers will already have some or all of these products so this bundle isn't valuable to them.
Loyal customers support brands over a long period of time and wait for sales — they expect deals tailored to them. Provide valuable promotions to them by offering deals on individual products or more expensive, specialised products that are usually out of their reach.
What to do instead: Create promotions that appeal to various customer segments.
Incorrect Post-Purchase Communication
Once a customer makes a purchase, they want to know more about the details of their order. They want to know when they will receive their order and whether there are any delays. What customers don't want is to get additional promotional emails about the same sale.
Sending another email about the sale is fine, but then it has to have a different slant. For instance, it might include other products for a cross-sell, or showcase an entirely different set of products that are also on promotion.
What to do instead: Set up your Klaviyo flows to only send emails to segmented lists.
Holiday Marketing Customers Love
Now onto the things customers love! If you are using these marketing tactics already, then you know they work, so keep doing them. If you haven't tried these tactics yet, try them out with your next holiday marketing campaign.
Communication at Every Step
The holidays can be stressful for many consumers so they don't want to be struggling with their shopping too. Customers want a seamless shopping experience tailored to their every need without creating questions in their minds.
Focus on providing clear information that addresses any concerns consumers might have. Explain when any promotions start and end, as well as any qualifying criteria for deals.
Be clear about shipping information too. State shipping cut-off deadlines in all marketing material so that consumers know the last purchasing date if they want their orders delivered on time for a specific holiday. Additionally, let customers know if shipping will take longer than usual due to busier seasons.
Add any other important information that customers should know about. For example, a business with a physical location can include details about extended hours in its emails.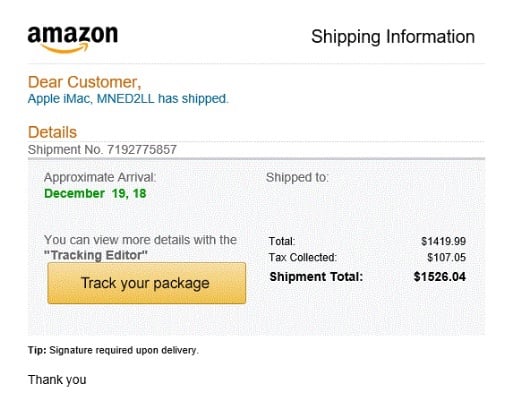 Ask What Customers Want & Give It
Customers, especially loyal ones, have their own ideas about what a brand or business should offer. They explain what they want through feedback in-store, on social media, or as reviews. Companies that send surveys or questionnaires asking for feedback also have information at their fingertips but how they use it is what's more important.
When a business receives feedback, they need to act on it accordingly because it tells them what customers really want, and giving customers what they want may result in repeat purchases.
For example, if a specific product that's on promotion is sold out and customers ask a company whether they could get more stock, then it could be beneficial for them to consider extending the promotion.
Similarly, customers may tell a business ahead of time what they want to see on sale which could be information worth acting on.
Rewarding Loyal Customers
Loyal customers, the ones who have been supporting a business for months (or even, years) know what they love about their products or services. It only makes sense for organisations to play to those needs and to show loyal customers they are valued.
Create special deals that loyal customers will find appealing: Bundle their favourite products together or offer them a more expensive product that they want but haven't purchased yet at a better price.
Another way to reward loyal customers is to treat them as VIPs when it comes to the holidays. Give them early access to sales at a VIP event or on your online store, or send them a discount code to encourage additional purchases.
Use the holidays to promote your loyalty program, if you have one in place. Offer special discounts to loyal customers and make it known that this is the case so that others will want to join. If you don't have a loyalty program, it's time to consider putting one in place.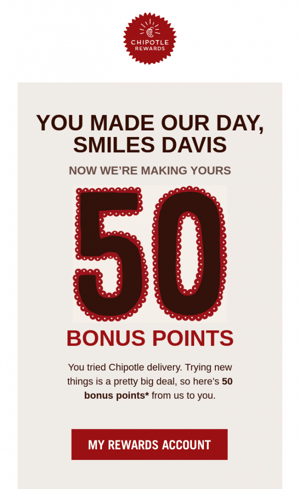 Complementary Marketing through Other Channels
Email marketing is a vital part of any strategy, but it works in conjunction with many other marketing channels. It's important to create holiday marketing campaigns that are all-encompassing and meet customers everywhere they are.
Showcase products and services on social media — paid adverts could be useful for special offers — and follow this up with emails containing more information about the deals.
Another popular marketing tactic is to support email campaigns with SMS messages. The text copy should be unique and not just a copy-and-paste of the email. SMS campaigns work very well to create a sense of urgency so use them to tell customers about last-minute deals, when stock is running low, or when it's getting close to shipping cut-off times.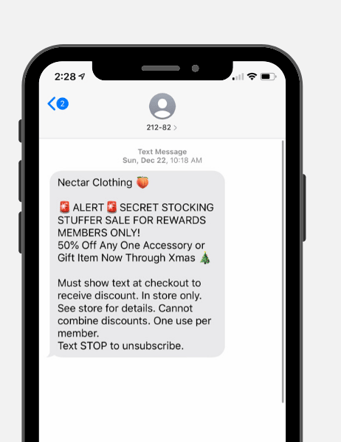 Make Campaigns Easier With Klaviyo
Holiday marketing campaigns don't have to be a challenge. If you have a thorough plan and know what you want to promote, then all you need to do is put your plan into action.
Use Klaviyo to set up your email campaigns and flows and create segmented lists that allow you to target the right consumers. Track the performance of your campaigns to see what works best and use those marketing tactics again in the future.
Do you need help with setting up Klaviyo? We can help!
Contact us today to find out what we can do for you.