Not sure how to create a landing page geared for high-converting results? You're not alone. In fact, the average conversion rate of landing pages is around 9.7%. That means your landing page ought to be better than average if you really want sales.
Although it can take some time to get right, the benefits of a good landing page are almost endless. You can isolate a particular product, goal, audience or behaviour and really get to know what language, design or offers work best. Once you've let them work their magic over a few days, you can track and measure the success to use the data for future marketing campaigns.
But a great landing page is not that easy to nail on the head the first time. It means going above and beyond what simply "looks good" and involves a specific set of tactics designed to hook your reader in and ultimately, convert them into a lead.
What exactly defines going above and beyond? Well, one important element is through the art of copywriting.
Before we get into the nitty-gritty of using copywriting for high converting landing pages, let's talk about a few landing page best practices. After all, copywriting alone will not convert your audience without all the other elements coming into play.
The Elements That Make Up A Successful Landing Page
The best landing pages all have two things in common; a clear goal and a focused audience.
Before writing or designing, ask yourself these two questions:
What is your goal?
Who is your audience?
The first question might seem easy enough, but answering the second question isn't always as straightforward as it seems. Our advice? Start with in-depth persona research.
We see it all too often – many brands think they know who will buy their product or service out of pure assumptions. If you're creating a landing page from no prior knowledge, data or research, no matter how good your copywriting is, the landing page will quickly crash and burn.
Once your persona research is completed and you have a clear goal in mind, this should form the basis of your entire landing page and should keep you from veering off the path in a different direction. Now you can start thinking about other elements that make up a successful landing page.
Here's a checklist to keep in mind, in addition to generating great copy:
✅ Use designs and visuals that will appeal to your audience or images they will relate to.
✅ Ensure there is no page load delay. A one-second delay in page-load speed leads to a 7% drop in conversions.
✅ Make sure you have just the right amount of form fields – reducing landing page form fields to just four can boost conversions by 120%.
✅ Use clear, easy to read fonts.
✅ Ensure that your CTA buttons are clear and stand out on the page.
✅ Optimise your landing page for mobile – 86% of the top landing pages are mobile-optimized
Writing copy that converts
Now for the part you've been waiting for.
Any skilled copywriter will know that the most important part of writing for a landing page involves using the AIDA principles.
AIDA stands for Awareness, Interest, Desire and Action:
Awareness: Tell them who you are, and what you are selling.
Interest: Generate interest by showcasing the benefits and entice the reader to read further so that they can learn more about it.
Desire: Emotive language is a great way to make the reader feel as if they must have your product or service.
Action: Create an enticing, clear call to action to take the next step.
At Warbble, we go a step further than every marketers' go-to, AIDA. This is because we know that the order in which you give information is essential.
The WHAC method from The 3-Minute Rule by Brant Pinvidic is a method that helps organise information so that your audience processes it in the right order and receives all the information they need to make their decision easier.
With that in mind, first and foremost, your copy needs to address the following questions within the first 10 seconds of scan reading.
What is it? What do you do? Tell someone in a nutshell what it is you do or offer.
How does it work? Explain exactly how it works and functions so that it is clearly understood.
Are you sure? Give them reasons to back up what you've said, and why they should believe you. This is the chance to convince them why they should believe the 'what' and 'how' it works.
Can you do it? This is about whether what you offer is actually practical when put into action. Prove it – show that it's real, attainable, and logistically soundproof.
Once you've created a framework for laying this out, combining both AIDA and WHAC, you'll be happy to know that most of the heavy lifting is done.
Now let's get writing.
1. It's all in the headline
You have approximately 5 seconds to impress your audience, therefore, your headline has got to be catchy, but it also needs to say exactly what it does on the tin. You need to explain and allude to what you are offering or what you do.
This is the space in which you can create awareness by telling the reader exactly who you are and what you do, as well as generate interest.
Here's the tricky part – it also needs to be short, no more than 20 words. Luckily, you have more opportunity to say what you want in the subheadings.
Did you know that 90% of visitors who read your headline will also read your call-to-action? Best it be a good headline then
2. Bring emotion into it
In the section following the headline, you want to hook the reader in even further by introducing emotion.
What are the benefits of having your product or service? What are the consequences of not having said product or service?
The truth is that the audience only cares about what your product or service will do for them – they're not buying the product, they're buying the outcome. By using emotive language you not only create interest, but you also create desire by painting a picture of the outcome and benefits of using your product or service.
3. The proof is in the pudding.
How exactly does your product or service work? And why should your reader believe what you've said in the section above?
If you have both social proof and evidence to back up your claims, this is where you can add it in too. Remember, this is the chance to convince them why they should believe the 'what' and 'how' it works.
4. The final tuck
Finally, you're going to want to give them an offer that they simply can't refuse. You've told them who you are, what you do, how you do it and you've proved it. You've created awareness, interest and desire, but now you want them to take action. Think about what will make them checkout or fill in their details quickly.
Can you give them a percentage off their first purchase? Offer them something for free in exchange for their email address?
This is all dependent on what the goal of this landing page is, but no matter the desired end result, it's important to create an enticing, clear call to action to prompt them to take the next step.
Your landing page template
With all of the above in mind, here is a template structure you can use to scan over when writing.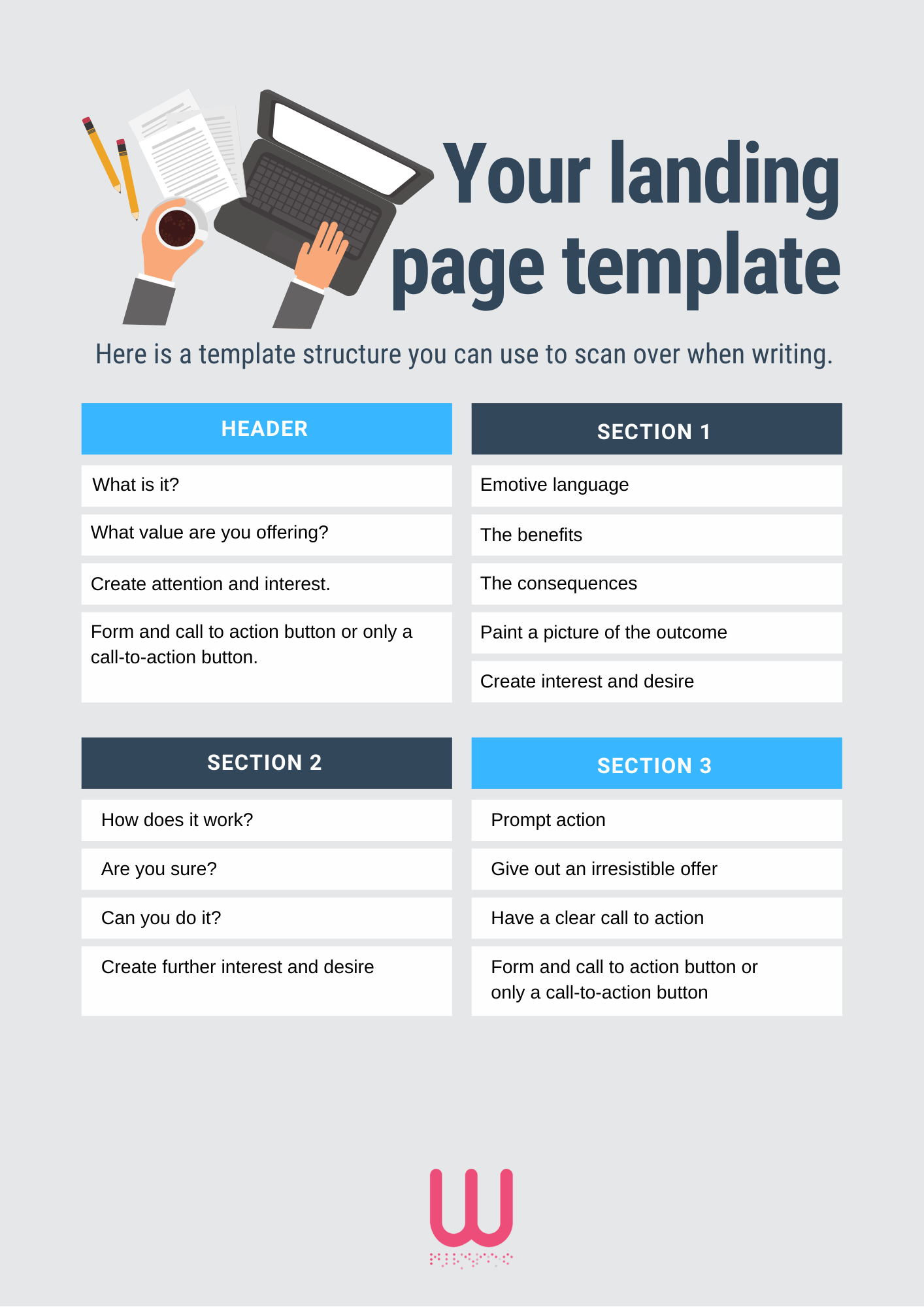 Lastly, and importantly, don't forget to AB test your landing page. Companies with 31 to 40 landing pages get seven times more leads than those with one to five landing pages. You can use the template above to create different split tests of your copy to see which words bring you the highest conversions.
Want to win a free landing page?
You read right. Every month, we are giving away a free HubSpot landing page to one lucky person that enters our competition. In fact, we're on a mission to give away 100 custom-built landing pages for free over the coming year. Why? Because we're motivated to see businesses grow.
If you've tried and tested it all from copywriting to design, perhaps you simply need some help. The truth is that a simple landing page just won't cut it among the noise these days. We've mastered the art of HubSpot landing pages and we'd love to show you a few effective landing pages examples we've built over the last few months.
Let us build a landing page that actually converts tenfold. Enter the competition here, and we'll create a free landing page that does just that.
Oh, and did we also mention that we're a HubSpot Gold partner? That means we can help with all your inbound marketing needs and more.