You've tried it all. Social media campaigns, gorilla marketing, outdoor advertising, you name it. You've even tried the worst of the worst — cold-calling! Yet your marketing goals still aren't budging.
Perhaps you haven't heard about inbound marketing. That might be because it's quite possibly the best kept secret around. It's the easiest way to drive leads to your site, and convert them into loyal customers. And it might just be exactly what you need.
So what is inbound
marketing?
Inbound marketing is a business methodology that attracts prospective customers by creating valuable content tailored to them.
Unlike traditional, outbound marketing which often interrupts your audience with content they don't want and bombards them in places they're likely to be, inbound marketing lets your audience find you — not the other way around. That's right, inbound marketing earns the attention of customers and makes your business easy to be found, as well as enjoyable to interact with.
It's all about delivering great solutions to your audience's problems, in exchange for a positive impact on your business and its image. But more than that, it's also about forming connections with your audience, building trust and credibility to help your business grow bigger, and better.
How does inbound marketing work?
An inbound marketing strategy includes a number of different types of content and channels to attract prospective leads to your website.
But it doesn't stop there. In fact, that's just the foundation. It's not enough to simply attract people to your website and hope for the best. Inbound marketing involves helping, supporting and empowering your leads, to turn them into loyal customers.
Inbound marketing utilises content marketing, SEO, social media, automation, lead nurturing, email marketing and so much more, in an effort to attract new customers and build the brand's image.
The focus is on marketing, sales and service, based off of the inbound flywheel, as illustrated below.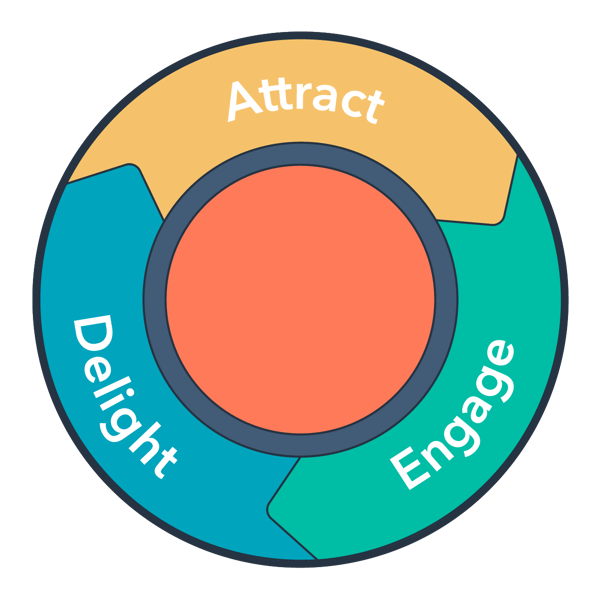 Yes, there's actually a formula for this, that really works. And no, it's not anything like the traditional, linear marketing funnel. The inbound flywheel consists of three stages; attract, engage and delight. This model is what's used to create credibility, build trust and accelerate business growth.
Attract
Create content and conversations that attract the right audience, and start important conversations.
Engage
Build a lasting relationship with that audience by providing insights and solutions to their problems and goals.
Delight
Go above and beyond, by adding real value with an outstanding experience from your business that allows your audience to reach their goals.
When was the last time you felt like a brand really got you? When it does, it's likely to stick with you, and become a part of your life. That's what inbound marketing aims to achieve.
Inbound is designed to help your business grow
With automation and workflows being a big part of inbound marketing methodology, it's designed to help your business grow in a way that's manageable.
Not to mention, now your business will be attracting all the right kind of leads that will really help you grow. It all depends on how quickly you spin the flywheel.
Is Inbound Marketing right for my business?
Only you know what's best for you business. But chances are, if your current marketing activities aren't help you grow, you need inbound marketing.
HubSpot is the expert platform in executing inbound marketing. Did you know that we're a HubSpot Gold Partner? That means we've been officially recognised as one of HubSpot's top-performing partner agencies. Why not hop on a meeting call with one of our team members to discuss your marketing needs, and see if inbound would be a good fit for your business? We'd love to chat.